The GWA crew and athletes are on the Greek island of Rhodes for the GWA Wingfoil Race Class European Championship that will take place this week from the 14th – 17th July.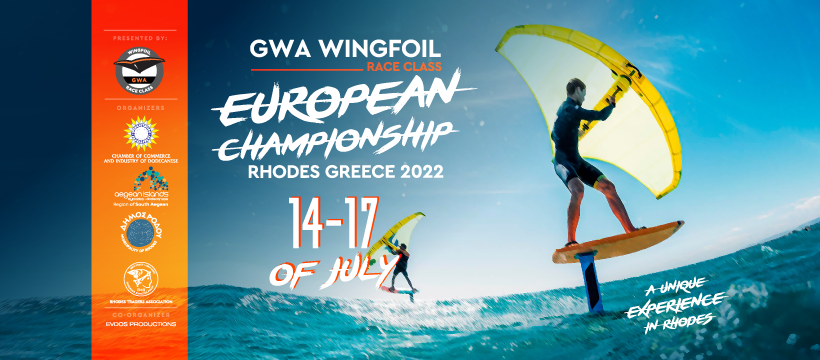 Rhodes is the perfect location for this GWA Wingfoil Race Class European Championship, due to its constant winds, warm turquoise water and perfect sunshine. Well known for many years as a top windsurfing destination, in recent times Rhodes has also seen rapid growth of wingfoiling on the island due to the great conditions that it offers.
The GWA Wingfoil Race Class events are one-off events that take place according to World Sailing standards and regulations, and this event will include Youth and Masters categories. This means that the winner from this event will become the GWA Wingfoil Race Class European Champion.
As you can expect, among the 45 registered athletes, all of the big names are here for this event, including Nia Suardiaz and Paula Novotna for the women's division, who have been neck and neck during every World Toour event this year, and this Race Class event will no doubt produce yet another close battle.
For the men's division, Francesco Cappuzzo and Mathis Ghio are just two of the big names who will be flying around the race course, along with many of the young gun riders who want to give them a run for their money.
Stay tuned to our social media channels (Instagram / Facebook) this week to enjoy all of the speed and action you would expect from this GWA European Wingfoil Race Championship!
When? 14th to 17th of July 2022
Where? Rhodes, Greece. If you are in the area, come and join us on the beach and enjoy the event with us.
How? We unfortunately do not have a live-stream available for this event, but you can follow the live-scoring and live-ticker here.