With the introduction of the new Race Class Discipline and with the completion of the St. Moritz race event in Switzerland, we wanted to sit down with competitors Francesco Cappuzzo, Olivia Piana and Balz Müller to discuss the nuances of racing, and explore where this sport is heading. We chatted about how racing differs from freestyle, how they prepare for competitions and what their favorite parts of the race are.
Check out the tops race tips from these three pro wingfoilers: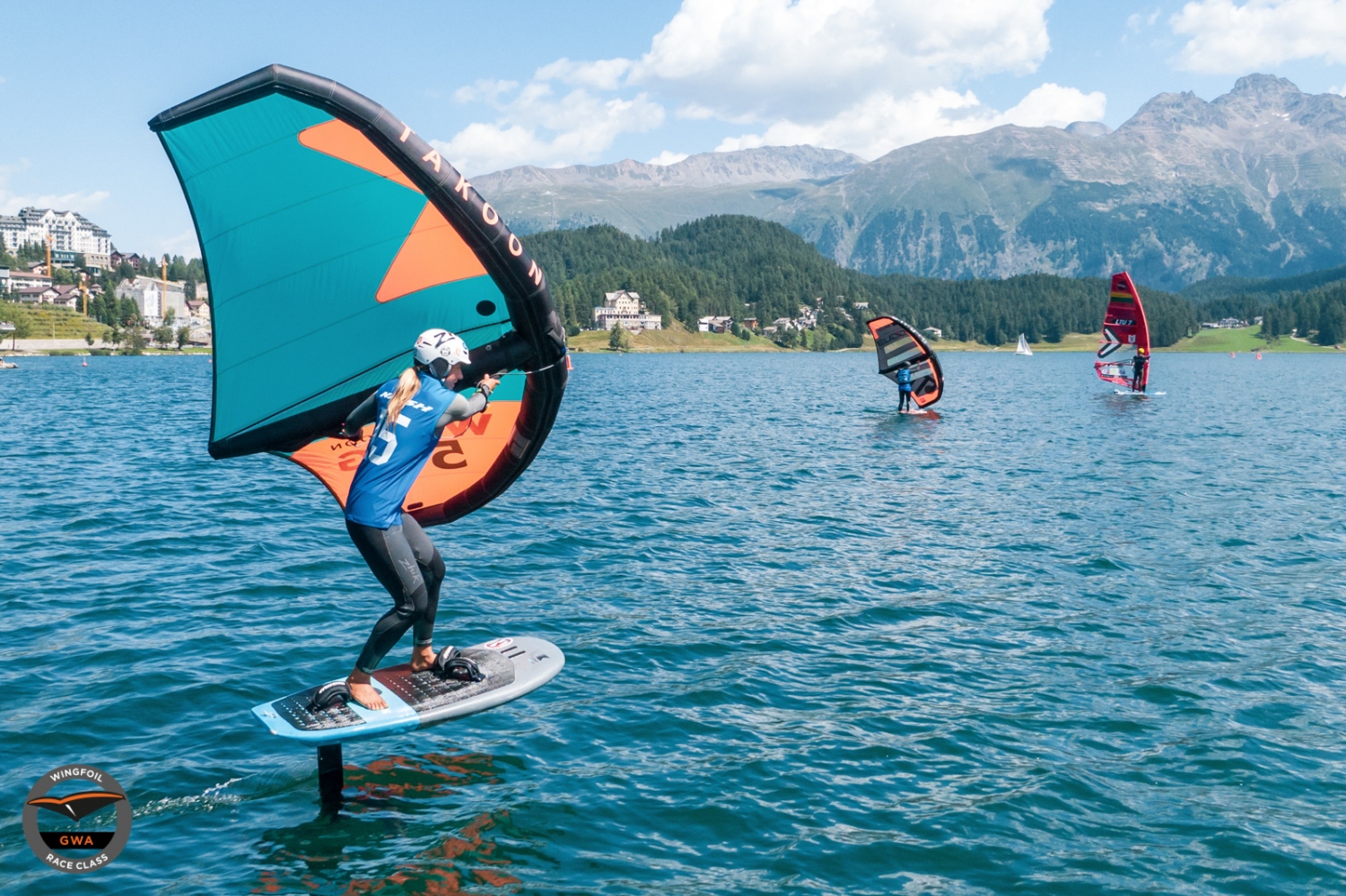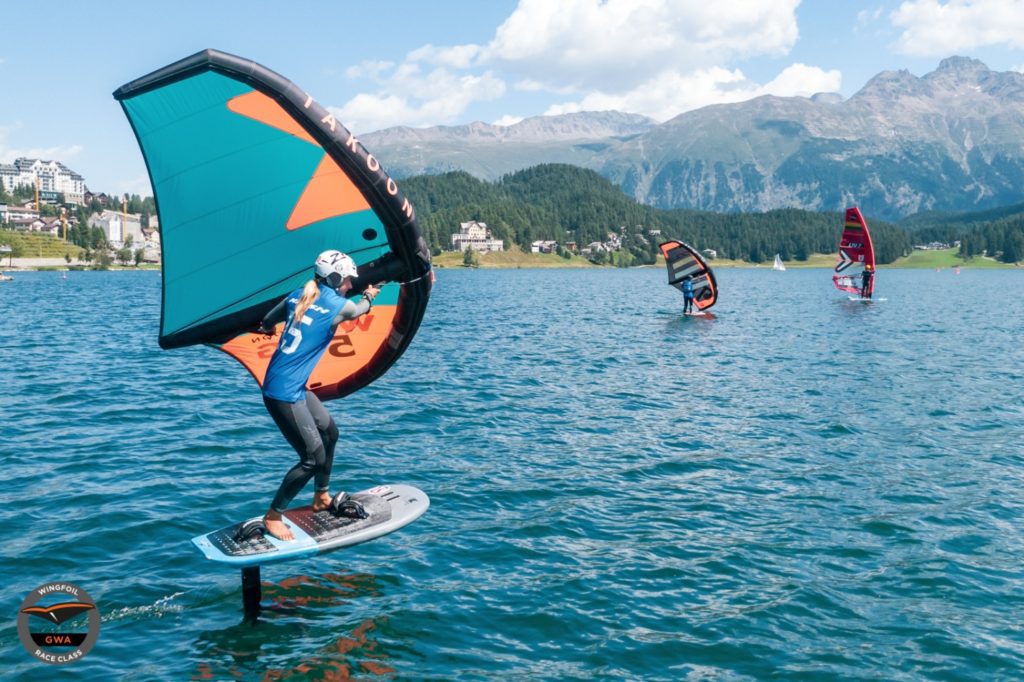 What makes racing different from freestyle?
Olivia: The sensations, the self-transcendence and the interaction with others are very different from one discipline to another. What I like in Racing is to think about a strategy before the race, to watch how the first heats are going and try to imitate the best riders. In Wingfoil Racing, we are starting to go really fast and it makes the game even more exciting! There is a great deal of concentration in the manoeuvers and reading the wind. A fall can easily happen, and if you want to win you can not fall!
Francesco: The feeling of arriving first in racing most of the time is more clear than when you finish a Freestyle heat and you need to wait for the final decision from all the judges. Another difference is the choice of the gear in racing because is super important to choose the right gear for the conditions. Most of the time, in freestyle, you just go with the gear that you are most confident with. Also in racing, when you approach the starting line with all of the riders and after the race you come up with the win you feel super good because you beat everyone in the same conditions while in freestyle sometimes you can have some bad or good luck with the wind and win some heat and lose others just because of the differing conditions.
Balz: As the name says in freestyle nothing is predefined, everyone can express her-/himself in her/his own way. For this reason, it's much easier to run a competition in racing as the first over the line is the clear winner both for riders and spectators.
What is your pre-competition ritual? How do you mentally and physically prepare for a race?
Balz: Not losing my mind before the event starts. I have a love-hate relationship with any kind of competition. I love competing together on the water and challenging myself to become better than I was before but I hate the rival atmosphere that accompanies it. So usually I'm freaking nervous and super scared to fail, so I need to keep the focus on fun and keep telling myself to enjoy my time with all the super motivated friends who are all sharing the same passion and pushing this cool sport to new limits.
Francesco: Before each event, I get all my gear set, ready and clean. Then at least two days before the competition I go to the racing area and try all my gear and I start to study the competition area with all the wind shifts and all the different gusts. Then I'll be ready for all kinds of conditions and variables that can occur during the race.
Olivia: Before a race, I sail at the competition spot. I check the conditions, the wind, the swell and the specificities of the spot. I take care to eat and drink well before the race. I meditate if I need it– it is a good way to reconnect here and now. Most of all, I remember one thing: have fun and do my best.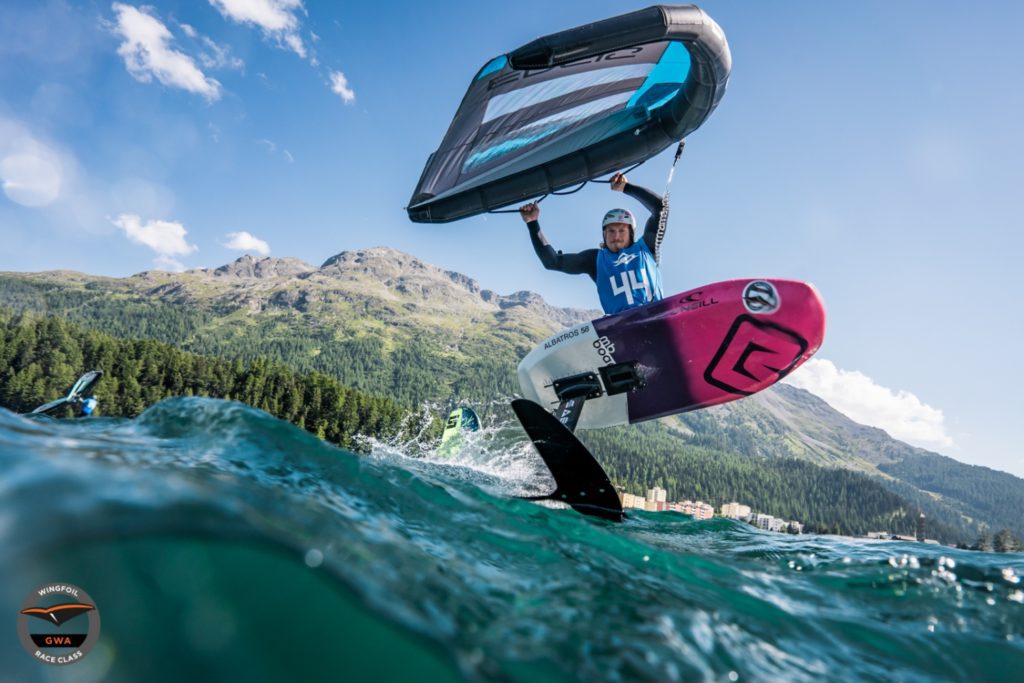 What are your racing strategies? How do you approach a wingfoil race?
Olivia: Most of the time the Wingfoiling courses are quite versatile with a mix of everything : reaching, upwind, downwind and even some leg- pumping without using the wing. The choice of gear is very important. I prefer to use a setup on which I will feel confident in maneuvers, in less windy areas and also on the leg-pumping leg which requires a lot of energy.
Then the start is very important. Wingfoiling creates huge turbulence on the riders downwind and behind you, so it's much better to start in front of the fleet! During the race I do my best to get a maximum amount of speed, do nice maneuvers and read the wind as best as I can for the upwind and downwind legs.
Francesco: I can't tell you all my secrets but for sure one of my main efforts is to be first on the starting line and first to the first buoy. Then I start to analyze all my competitors and try to figure out which strategy to use to win. When you are in first it's easier mentally and physically to make the right decision and to drive the race where you want to. When you are in the back it's always harder because you need to follow some guys and try to avoid all the wind holes especially with the foil that makes a lot of turbulence and you can crash any time.
Balz: So far I haven't explicitly trained for racing, this sport has much more to offer than riding 100m straight. But I feel all the hours training freestyling on the water is a big benefit also in all the racing maneuvers. So now I need to motivate myself to ride fast and straight for days and test lots of different setups. But I hope the race director is not only focusing on speed-orientated racing. In wing racing right now I believe that the start is most important since it's almost impossible to overtake a skilled winger due to the enormous wind turbulences behind the handheld wing. So it all comes down to positioning yourself and lots of real racing experiences.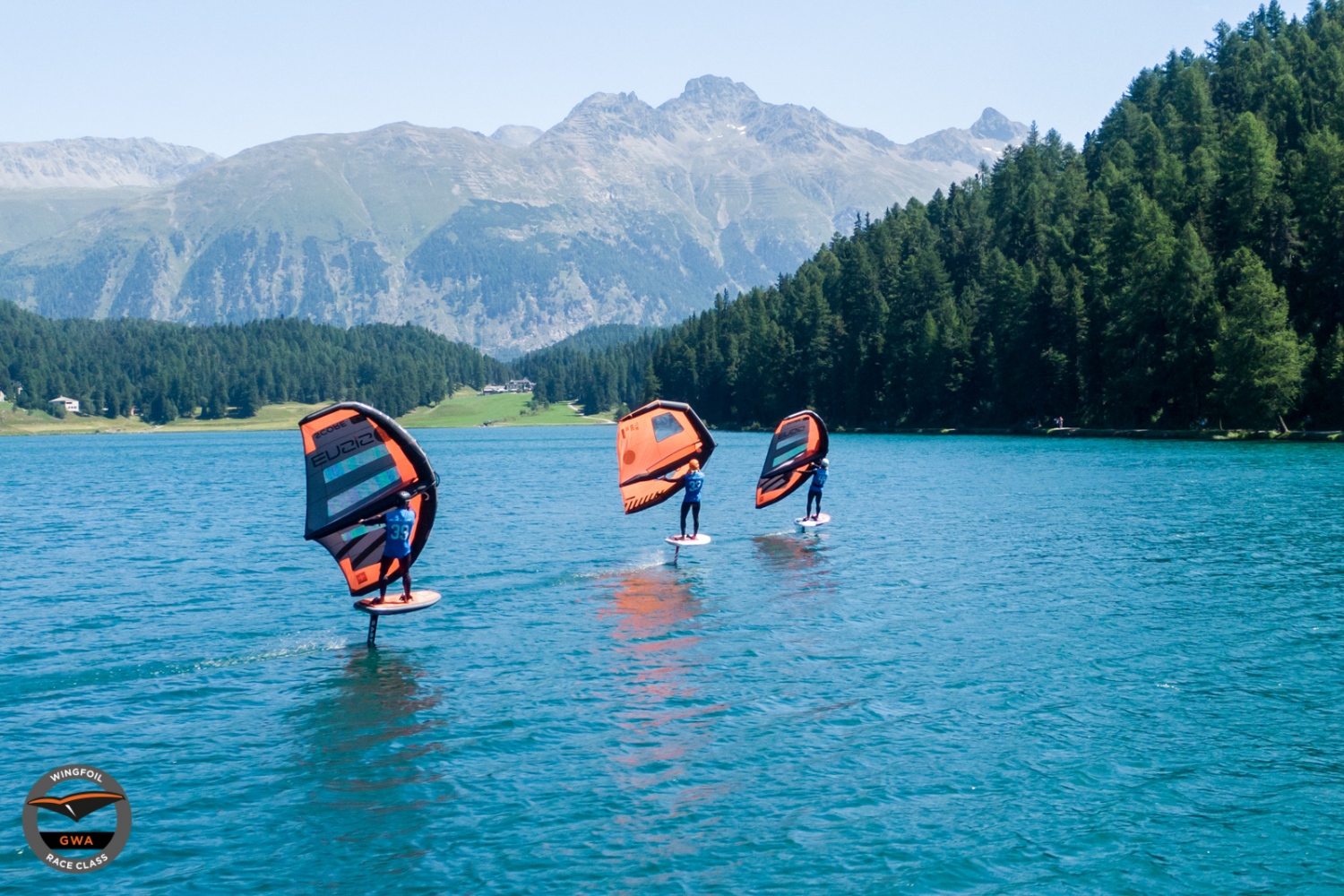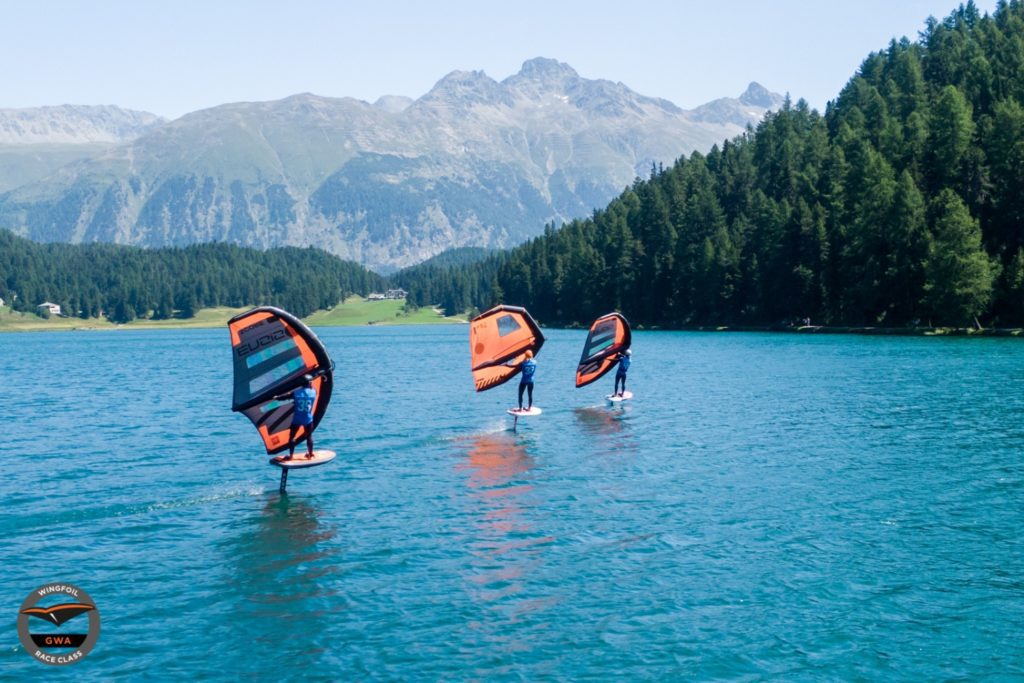 What was your biggest takeaway from the event?
Francesco: One thing I learned in the last few competitions is that "it's never done until it's over" so you need to push as much as you can from the beginning until you cross the finish line because in each race anything can happen.
Olivia: My biggest takeaway from the event was to meet amazing people, to express the best of myself on the races and to leave the event with a lot of inspiration from the other riders, like Balz Muller, Maxime Chabloz, Michael Näf or Henning Nockel. They all have a big smile on their faces and you can feel the passion with the huge commitment they bring to Wingfoiling. I want to be like them! Since I came back from Switzerland I've been trying backflips on every ramp that comes up. That's how I want to play Wingfoiling.
Balz: Riders need to push more for interesting and fun race courses. And we need to make sure to keep it safe. No one wants to fall in front of a race wolfpack. Better fly safe than sorry.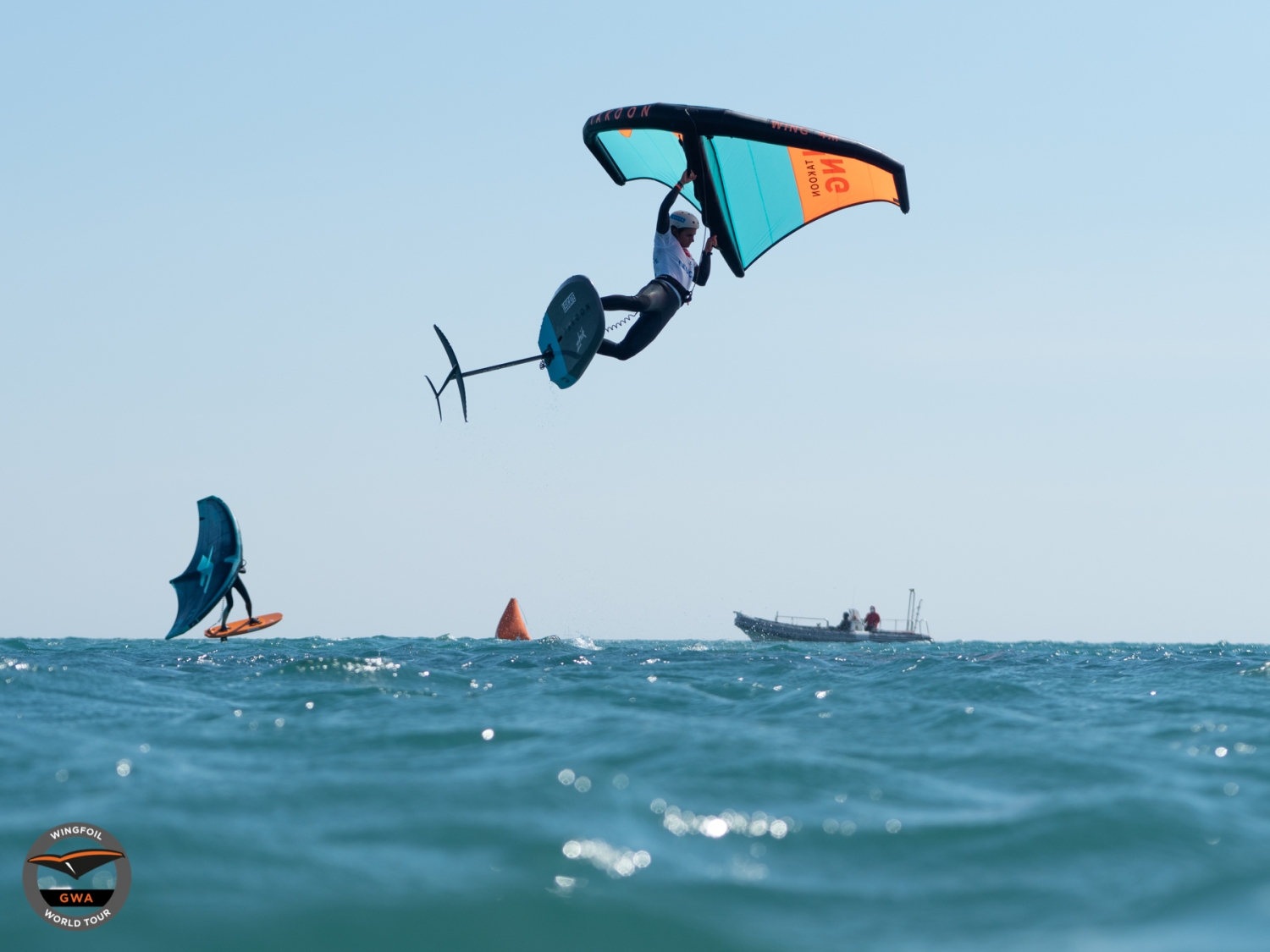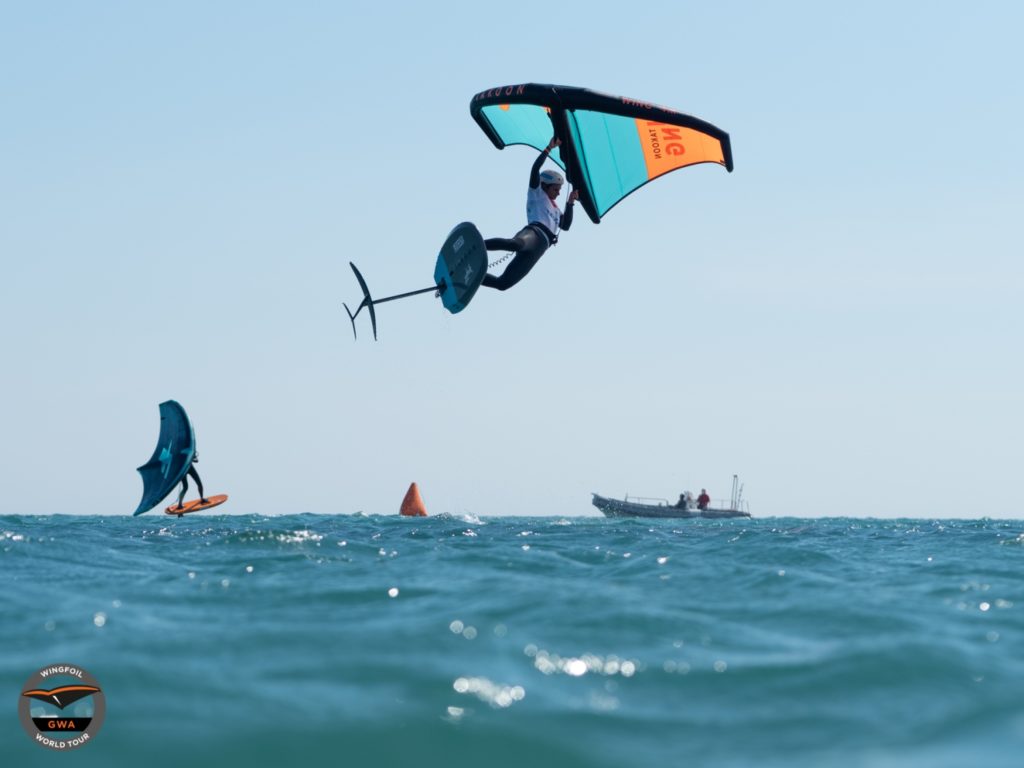 How do you suggest readers train for racing?
Francesco: One of the best tips I can suggest is to always train with other riders and try to enter as many competitions as you can because you learn a lot when you compete with the best guys in the world and you can measure yourself with the strongest guys and focus on what you need to train better for the next race.
Balz: Start procedures over and over again.
Olivia: While training, the most important thing is to have fun and to train in different conditions and to go to different spots. The good thing with wingfoiling it's that you can sail wherever you want, and nature itself, with its variety, is our own coach! It's good to train with other riders to compare your speed and your VMG. You can try to pump with the legs as in surf-foiling, as it helps a lot to gain speed and also to go upwind and downwind. Then it is important to feel comfortable when you swap your feet during the jibes and the tacks while maintaining a maximum amount of speed.
What is the hardest part about racing?
Francesco: For me the hardest part is the start because you need to choose the best place in the starting line considering all the other riders and all the wind shifts and all the wind holes. You need to try to look for a clear area to start because is better to start clear even if you are not in the best spot instead of being in the best spot.
Olivia: The hardest part in a race is the start. Before the start, you must be foiling and check your timer to cross the start line at full speed right at the end of the countdown. It requires a good awareness of time and the distance you can cross on the wingfoil.
Balz: Handling the wing and foil turbulences.
What is the most fun part?
Francesco: For me, the most fun part was the finish line because I realized that I had won! That released all the pressure and I started to smile and scream.
Olivia: The most fun part is also the start! It's so exciting to come full speed with everyone on the line. We all know it's a crucial moment so the pressure is intense!
Balz: Flying full speed along with all the wingers!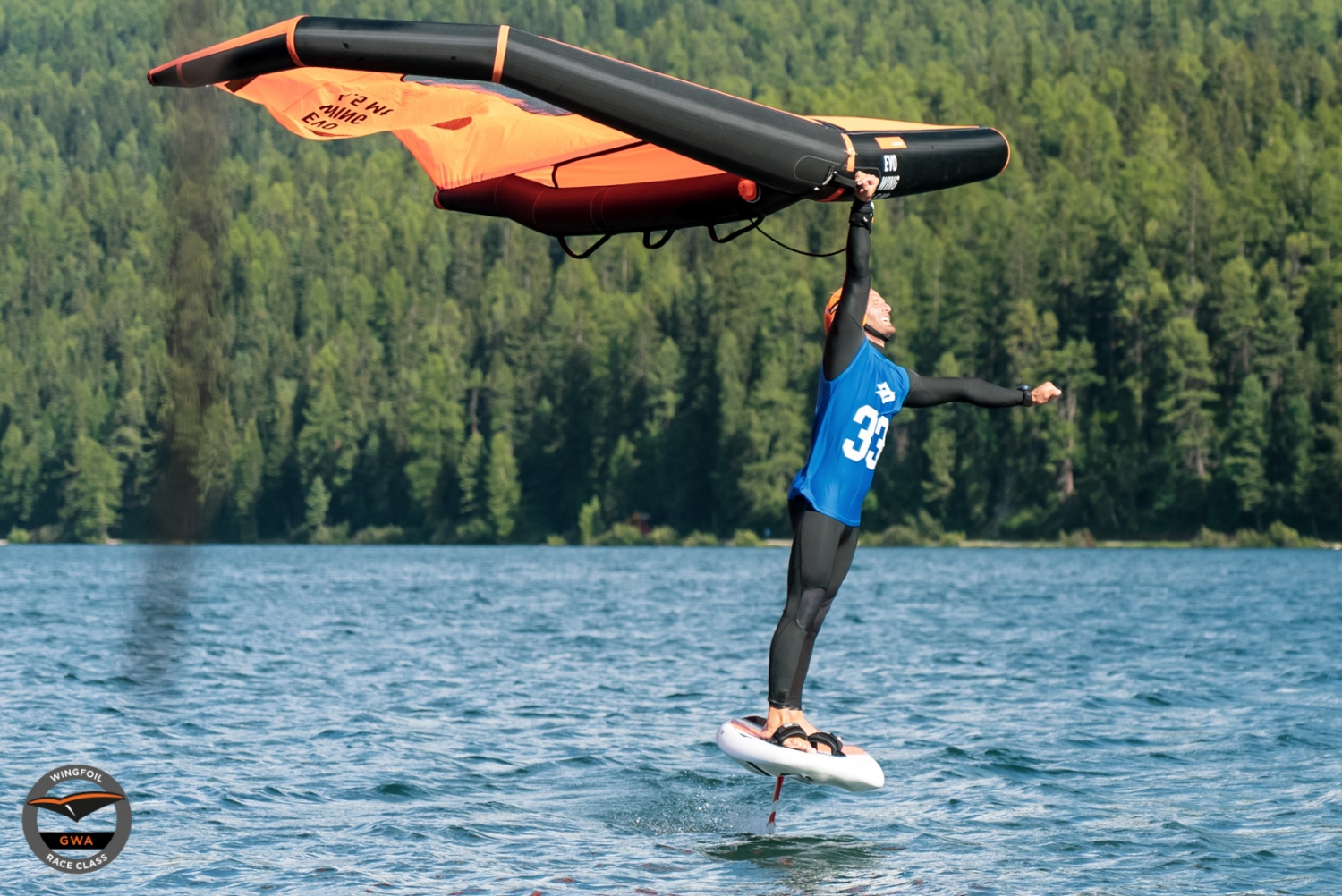 What are your top tips for improving your wingfoiling?
Francesco: You need a lot of hours in the water to improve your skills but as I said before when you train with friends or with other guys you always learn new things and every session you improve. Another good tip is to use the right gear for your level and for the conditions that you normally ride because using the right gear will help you improve faster. Another tip is to try different sports, for example, a lot of new tricks come from windsurfing freestyle so if you have the opportunity try to do some windsurfing or even kiting like that you can take some skills from this sports and bring it into wingfoiling.
Balz: Go out on easy gear (not too small) and share fun sessions with friends.
Olivia: Have fun, play with the ocean and get inspired by the best riders. Let your creativity go! It's a new sport and everything is possible.
Anything else to add?
Francesco: I would like to thank all my sponsors and friends that pushed me to learn this new watersport. I also want to say that Wing Foiling is for everyone, from kids to older people, this sport doesn't have any limit. You can ride at any age and anywhere from lakes to rivers, from the sea to the biggest oceans, from flatwater to big waves, from Freestyle to racing, Wing Foil is all about fun so get one and come ride with all of us.
Olivia: Big thank you to GWA for organizing awesome events with a great atmosphere. We are experiencing something unique with the birth of Wingfoiling. Thanks to Takoon and Zhik Australia for supporting me in this new journey.
Photos by Laci Kobulsky and Samuel Cardenas.